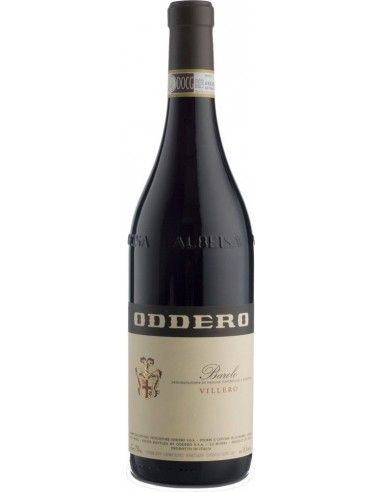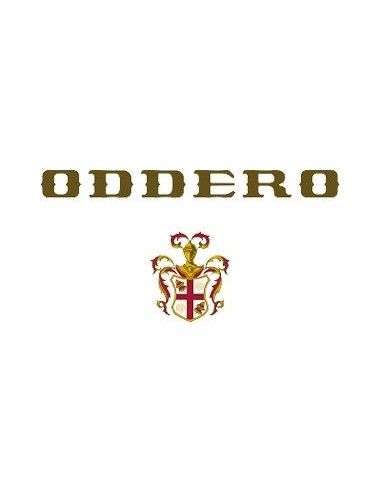 Barolo DOCG 'Villero' 2017 (750 ml.) - Oddero
Barolo 'Villero' by Oddero is a strong and well-rounded wine, Barolo Villero reflects a soil richer in clay and limestone than that of Rocche di Castiglione, located in the same town. The bouquet offers intriguing and dense scents of violet, red fruits, cocoa and liquorice. The complex tannic texture displays a delicate sweet finish. 
 

VINEYARDS
The total surface area of Oddero vineyard property is about 35 hectares, of which 16.5 are cultivated with Nebbiolo for making Barolo and Barbaresco. The family property also includes about 6 hectares of hazelnut trees, the prized Nocciola Piemonte IGP of the Langhe. The new Production Regulations (Disciplinari di Produzione) for Barolo and
Barbaresco officially include the codifications for "Menzioni Geografiche Aggiuntive." These are geographical areas that are particularly prized for Nebbiolo cultivation. Several of the Oddero winery's historical vineyard properties enter into this designation, and the names have been used since the 1980s on the labels of our Barolo and Barbaresco wines.

PRODUCTIVE PHISOLOPHY
There are many ways to show respect for the natural heritage of our territory and for the health of our consumers. At times, it means simply taking daily measures that everyone can do; at other times, it means having an action plan, perfectly calibrated to guarantee the most natural cultivation of vineyards and crops possible. Beginning in 2008, we began practicing organic vineyard management, gradually changing our habits year by year. The first step was to eliminate the use of springtime herbicides and to learn how to manually and mechanically control weeds, even among the vineyard rows (not an easy or cheap operation when done by hand). We reintroduced the soil tillage practices that we used in the past. Tilling is fundamental after harvest to aerate and enrich the earth with useful microorganisms (bacteria and fungi), thus permitting water to infiltrate the soil in the winter and spring and favor the incorporation of essential organic substances. To avoid insecticides, we began using pheromone dispensers that sexually disorient the insect Tignola. And to help with the development of the vines and to combat erosion, we use green cover between the rows, made from a biodiverse mix of selected seeds and green manure, or grass clippings, and tilling it under.
The successful results encourage us to continue pursuing this course of action. In 2011, we sought organic conversion for several Nebbiolo vineyards; and in 2017, these vineyards will be organically certified for a total surface area (rather fractured) of about 18 hectares. Once the Nebbiolo vineyards are converted, we will begin converting all other varieties, as well. 

It is a big commitment

: we do not have one piece of 35 hectares of land, but many small vineyards (sometimes just half a hectare big) distributed in a wide zone from La Morra to Serralunga d'Alba including Monforte d'Alba, Castiglione Falletto, Neive, and Trezzo Tinella. In the cellar, we give maximum respect to the raw materials, which truly represent the richness and versatility of our soil. We strive to work so that our bottles of wine "are" the vineyards that we cultivate. We have the great fortune to possess some of the most beautiful and important vineyards of the Langhe in Barolo and Barbaresco territory. It is a considerable treasure—these are "talents" that should not be wasted. It will not be easy and it requires the commitment and heart of everyone who works with us. The vineyards deserve our most heartfelt thanks.
THE COMPANY
Poderi e Cantine Oddero è uno dei marchi storici tra i produttori del Barolo. L'azienda ha radici che risalgono alla fine del XVIII secolo, quando gli avi della nostra famiglia cominciarono a vinificare in proprio. Le cantine, situate in Frazione Santa Maria di La Morra si innalzano su di un terrazzo naturale e gettano lo sguardo sulle colline delle Langhe. Immersa in un mare di curatissimi vigneti, la nostra azienda coltiva 35 ettari dei migliori cru delle Langhe e dell'Astigiano da cui ottiene l'eccellenza dei vini piemontesi:
Barolo, Barbaresco, Langhe Nebbiolo, Dolcetto d'Alba, Barbera d'Alba, Barbera d'Asti e Moscato. 
Sapienza antica e aggiornate tecniche produttive. Tenacia, pazienza, rispetto della materia prima e del territorio. Produrre vini per noi significa curare ogni dettaglio: dalla potatura invernale alle primaverili operazioni in verde, dai diradamenti alla vendemmia, fino alla pigiatura, la fermentazione e il lungo affinamento. La qualità è un valore che si scopre nei dettagli. 
HISTORY
It is difficult to pinpoint a precise date for when our ancestors began making wine, though the vineyards and farmhouses that we live in today have always belonged to the family. From researching parish and township documents, however, we can confirm that the Oddero family has been present in the territory of La Morra since at least the 

18th century

.
Through writings, notarial acts, and personal photographs, we know that Giovanni 

Battista Oddero

 (1794 -1874)—and after him, his sons 

Lorenzo

 (1821-1903) and 

Luigi

 (1832-1893)—began to vinify grapes in the township of La Morra between the 18th and 19th centuries.
It is through their efforts that our wines were introduced to the rest of the world. First, they were sold in small barrels and demijohns, and by 1878 they were sold in bottles through the efforts of the first 

Giacomo Oddero

 (1851-1915). Several recent findings demonstrate that near the end of the 19th century, 

Barolo Oddero

 was already being successfully exported to the Americas in small oak barrels.
Other wines earned 

important recognitions

 in Italy. In 1911, our Barolo was part of the International Exposition of Turin. It was included in a wine tasting organized by the Subalpine Oenophiles Guild (Circolo Enofilo Subalpino) in occasion of the 50th anniversary of the Unification of Italy..
Data sheet
Product Category

Red Wine

Designation

Barolo DOCG

Philosophy

Organic, Biodynamic

Grape / Raw material

nebbiolo

Vintage - Cuvée

2017

Size

750 ml.

Country

Italy

Region

IT - Piedmont

Municipality of production

Castiglione Falletto

Alcohol Content

14.5% vol.

Service Temperature

18° - 20° C.

Suggested Glass

Large calyx with a long stem

Food Matches

Stewed Meat, Game, Red Meat

Tasting

Color: red brilliant garnet.Perfume: It offers intriguing and compact feelings of violet, red fruit, cocoa and licorice.Flavor: complex tannic texture, but emerges with delicate sweetness.
From same wine maker
Product Category - Red Wine Designation - Barbera d'Asti DOCG Grape / Raw material - barbera d'Asti Vintage - Cuvée - 2017 Size - 750 ml. Country - Italy Region - IT - Piedmont Alcohol Content - 14.5% vol. Service Temperature - 16° – 18° C. Suggested Glass - Large calyx with a long stem Food Matches - Red Meat, Young Cheese Tasting - Color: intense ruby red, tending to garnet Bouquet: fruity hints, of red fruit, and hints of bitter cocoa, coffee and spices Taste: full-bodied and structured, dry and persistent.

Barbera d'Asti Superiore 'Nizza' by Oddero is made in the municipality of Nizza Monferrato, one of the most suitable areas for the cultivation of this vine. After fermentation, it matures partly in oak barrels and partly in barrique for 16 months, and then blended in spring and bottled in summer. It is balanced and harmonious, very elegant and enveloping. Starting from the 2014 harvest, Barbera d'Asti has become Nizza DOCG.    

Regular price

€30.00

-20%

Price

€24.00

Product Category - Red Wine Designation - Langhe Nebbiolo DOC Philosophy - Organic Grape / Raw material - nebbiolo Vintage - Cuvée - 2018 Size - 750 ml. Country - Italy Region - IT - Piedmont Alcohol Content - 14% vol. Service Temperature - 16° – 18° C. Suggested Glass - Large calyx with a long stem Food Matches - Pasta or Rice with Meat, Roasted Beef, Stewed Meat, Aged Cheese, Red Meat, Rice & Risotto Tasting - Colore: rosso rubino Bouquet: viola e frutta rossa Gusto: tannino piacevole che richiama la terra di Langa

Langhe Nebbiolo by   Oddero  is a medium-sized wine that surprises for territoriality. Refined for about one and a half years in oak barrels. Bright ruby red, nice bouquet of purple, apple and red fruit, with undergrowth and cloves. Very pleasing with a pleasant tannin: perfect to match with meat.

Regular price

€35.00

-20%

Price

€28.00

Product Category - Red Wine Designation - Barolo DOCG Grape / Raw material - nebbiolo Vintage - Cuvée - 2017 Size - 750 ml. Country - Italy Region - IT - Piedmont Municipality of production - La Morra Alcohol Content - 14% vol. Service Temperature - 18° - 20° C. Suggested Glass - Large calyx with a long stem Food Matches - Roasted Beef, Stewed Meat, Aged Cheese, Game, Red Meat Tasting - Color: red brilliant garnet.Perfume: unmistakable, very pleasant, intense and ethereal, very persistent, sometimes spicy, with hints of truffle, licorice, dried flowers.Taste: dry, with important and full tannins.

Barolo Classico  by  Oddero  is made with grapes coming from 3 different vineyards. Aging in Austrian oak barrels and Slavonia, for 30 months. Further aging in the bottle of 6 months. Wonderful wine rich in shades, robust and structured, warm and dry. Perfect for a long time. To be combined with rich and tasty dishes.