Shipping
The shipment of your parcel
We advise you to group your items in one order. We can not group two distinct orders performed separately, so shipping costs will be charged for each of them. Your package will be sent at your own risk, but special attention is paid in the case of fragile objects.
Boxes are amply sized and your items are adequately large well protected.
Packages are usually sent within 7 days of receipt of payment and are shipped by Express courier with tracking and drop-off without signature.
Shipping costs include the costs of management and packaging and postage. The operating costs are fixed, whereas transport costs vary depending on the total weight of the shipment. Our system automatically calculates the cost of transport based on the total weight of the products included in the cart and the destination required.
Any Customs fees are charged to the customer directly by the competent customs.
Our reference courier is: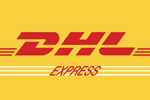 All shipments made with approved safety double body cartons.
each carton can store maximum up to 6 bottles of 750 ml. 
SUPPLEMENTS
Supplement costs will be automatically invoiced by Millinvar in case of: 
Costs of storage opening practice 12,20 € + custody 2,50 €/day + 3,70 € new delivery.