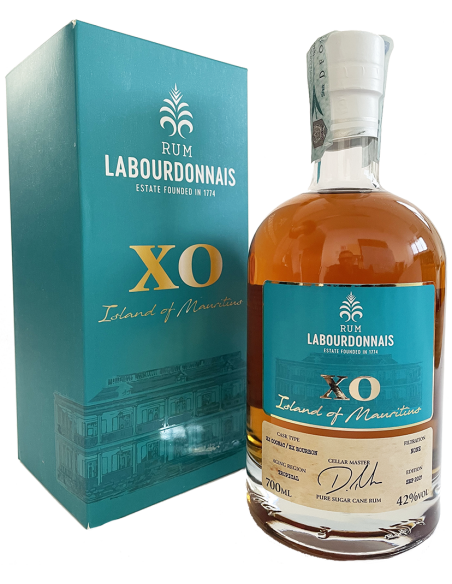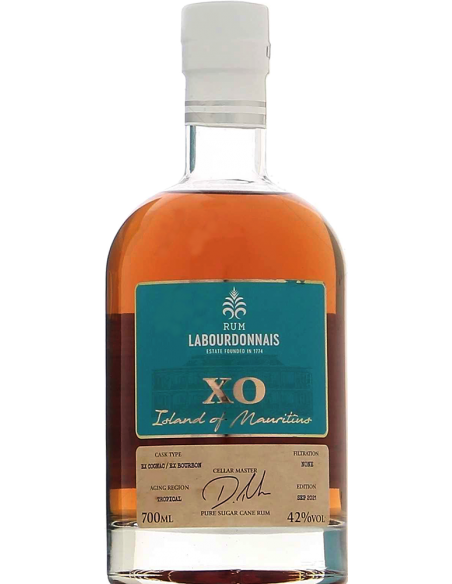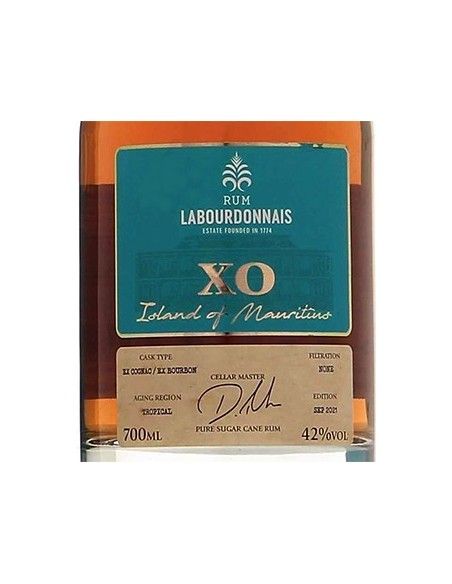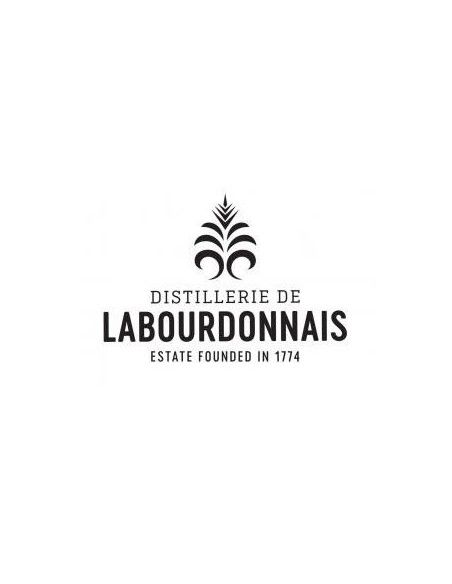 Rum 'XO' by Labourdonnais is made in Mauritius. The Domaine de Labourdonnais, founded in 1774 is set amidst beautiful gardens and lush orchards. Built in 2006, the Distillery brings together a young and dynamic team. Specialized in the production of agricultural rum based on pure sugar cane juice. The XO ages in Cognac and Bourbon barrels. Agricultural rum made from pure sugar cane juice. Think toffee, caramel, juicy plums, and subtle citrusy notes. This 5-year-old rum is rich, round, full-bodied. It brings with it the flavors of the French distillate and gives elegant and complex notes to both the nose and the palate.
Product Category

Rhum

Designation

Rhum

Type of Production

Distilled

Type

Agricultural

Color

Golden

Production Colonies

French

Grape / Raw material

sugar cane

Aging Class

XO - Extra Old

Aging

5 years

Size

700 ml.

Country

Mauritius

Alcohol Content

42% vol.

Service Temperature

14° - 16° C.

Suggested Glass

Large stalk with short stem

Packaging

Branded Case

Food Matches

After Dinner - Meditation
Domaine de Labourdonnais is a historic estate founded in 1774, which covers an area of ​​over 540 hectares.
The Domaine building is located in Mapou, in the north of the island of Mauritius, surrounded by fields of high-quality sugar cane and lush plantations of tropical fruit trees and vegetables. Within the estate, there is also a distillery dedicated to the production of Rum, which can make use of the highest quality raw materials and a warm climate, perfect for the maturation of the distillate.
La Rhumerie des Mascareignes was created in 2006 and uses the estate's very pure sugar cane for production. In 2014 the distillery changed its name, taking on the new name Distillerie de Labourdonnais, while retaining all the traditional local savoir-faire.
The renewal of the brand also coincided with a rethinking of the product range. The production focused on the production of Rum Agricole, created only with the first pressing of the purest sugar cane juice.
The success of distillates is based precisely on the quality of the juice and yeasts used during the fermentation process. Although it is a young company, the processing methods, from cutting the sugar cane to distillation, are inspired by the most ancient customs of the great tradition of Rum. The Classic range offers column-distilled white Rums, Rum Gold and Spiced Gold. The Classic Rums are aged in French oak and American oak barrels. The Fusion range comes from the maceration of premium quality fruit, spices and white rum and represents an innovative interpretation of the famous distillate. 
Color: bright gold. Bouquet: caramel, caramel, juicy plums and subtle citrus notes. Taste: fresh spicy notes, sweet and delicate.
Products of the same designation
From same wine maker