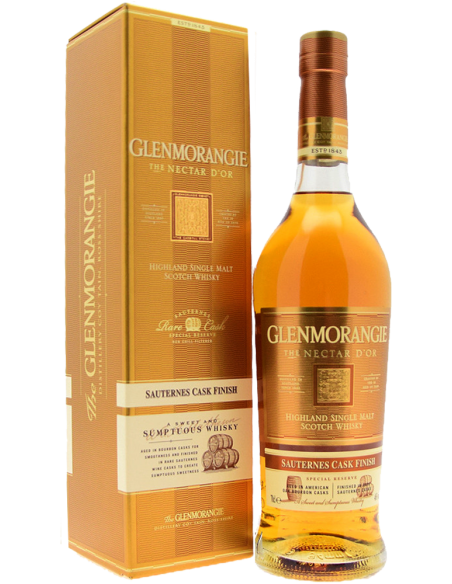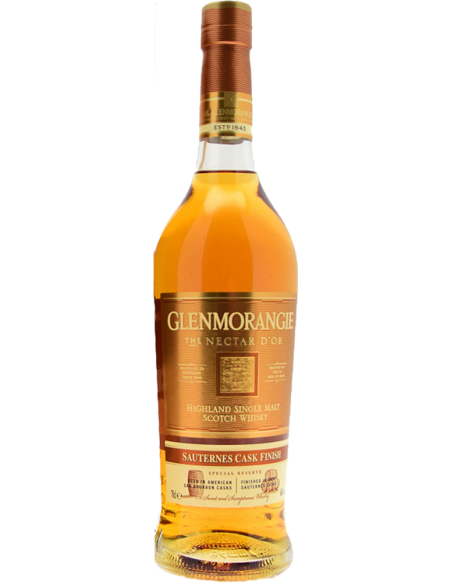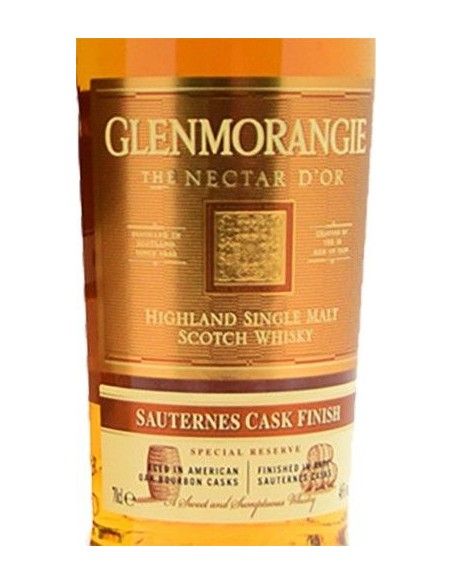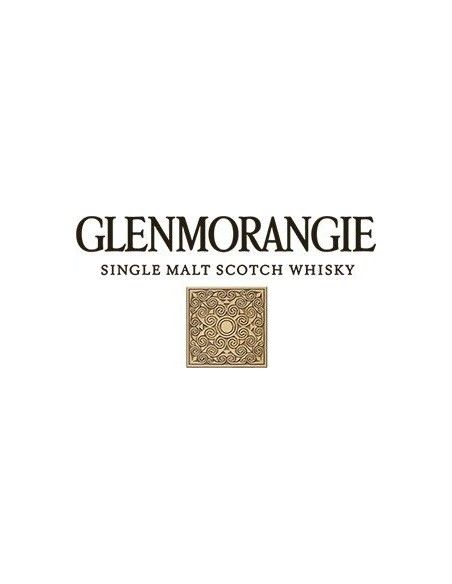 Highland Single Malt Scotch Whisky 'The Nectar d'Or' Sauternes Cask Finish (700 ml. boxed) - Glenmorangie
'Nectar d'Or' Sauternes Cask by Glenmorangie is a scotch whiskey produced in the Highlands that is aged for 10 years in American white oak barrels and then matured, for 2 years, in barriques that previously contained the Sauternes . Tribute to France and its most famous sweet wine in the world. Glenmorangie has managed to balance the sweet and dry of French wines very well with their whiskey. Deep and warm, with the sweet essence typical of Sauternes that blends perfectly with the character and strength of the whiskey. The finish closes on a spicy texture in which white chocolate and vanilla predominate.



Product Category

Whisky

Designation

Single Malt Whisky

Type

Scotch Whiskey - Single Malt

Type of Production

Distilled

Other Features

Filtered, Cask Finish

Grape / Raw material

malt

Aging

10 years

Size

700 ml.

Country

Scotland

Region

SC - Highlands

Alcohol Content

46% vol.

Service Temperature

16° – 18° C.

Suggested Glass

Tulip glass very large

Awards

IWC Silver Medal, IWSC Silver Medal

Scores

Wine Enthusiast 96/100

Packaging

Branded Case

Food Matches

After Dinner - Meditation

In 1843 a former brewery was converted into a distillery by William Matheson, who effectively sanctioned the birth of the Glenmorangie Distillery. Located in the North Highlands region, therefore in the northern part of Scotland that extends towards the North Sea, the Glenmorangie has faced numerous vicissitudes over the years. Currently, with 16 employees, a number that has been superstitiously kept unchanged for 150 years, the Glenmorangie, which is not surprisingly called the "16 man distillery", continues to produce prestigious and high quality Whiskeys. Using stills over five meters high, very pure distillates are born, which are left to mature in special barrels, previously used for aging Sauternes, Sherry, Pedro Ximenez, SuperTuscan and Porto. Exceptional whiskeys, renowned and unanimously appreciated by all the most demanding lovers of the category.
Color: golden yellow with honey-colored reflections Bouquet: sweet notes of lime and orange peel, sultanas and dates, with references to wood, ginger and nutmeg Taste: deep and warm, with the sweet essence typical of Sauternes, the finish closes on a spic
Products of the same designation