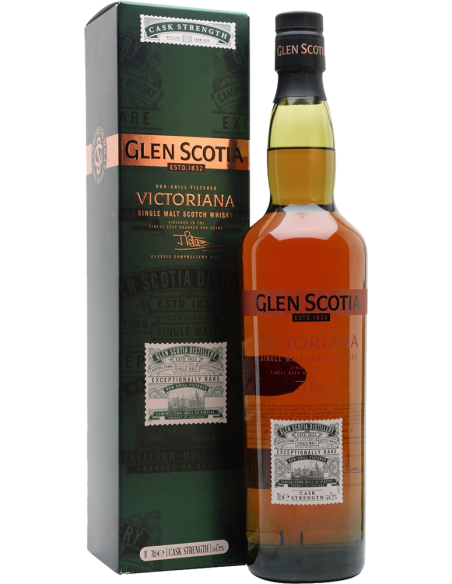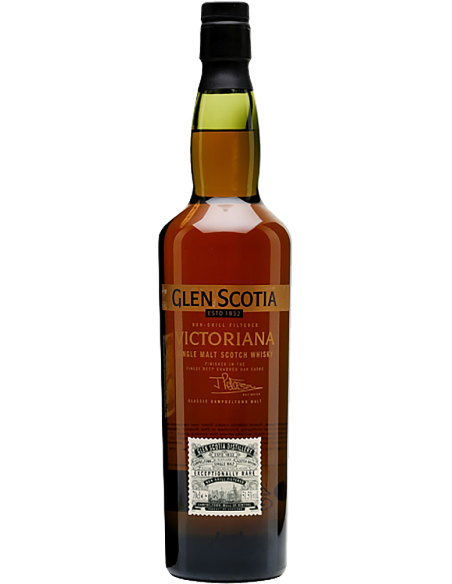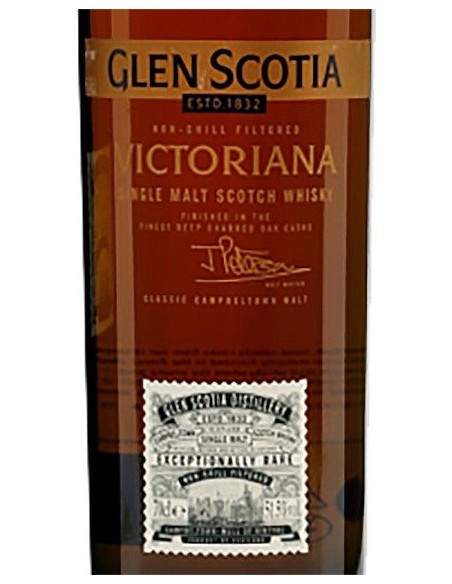 Single Malt Scotch Whisky 'Victoriana' Cask Strength by Glen Scotia is produced at the Campbeltown distillery, in the town of the same name located on the south-west coast of Scotland, on the Kintyree Peninsula. This whiskey is extracted from barrels with a particularly heavy charcoal profile, which conveys many rich and toasty notes. This Cask Strength fully displays the 'strength of the barrel', a robust 54.2% alcohol content, which helps to reinforce the aforementioned toasty notes. Elegant notes of oak, with notes of toasted sugar and citrus peel. Fruity flavor with juicy berries and fruit from the orchard sprinkled with dark chocolate.
Product Category

Whisky

Designation

Whisky

Type

Scotch Whiskey - Single Malt

Type of Production

Distilled

Other Features

Cask Finish, Filtered

Grape / Raw material

malt

Size

700 ml.

Country

Scotland

Alcohol Content

54.2% vol.

Service Temperature

16° – 18° C.

Suggested Glass

Tulip glass very large

Packaging

Branded Case

Food Matches

After Dinner - Meditation

Allergens

Contains Sulphites
GSC-VICTORIANA-CASK-STRENGHT

Glen Scotia is one of the smallest Scotch whisky distilleries in Scotland but one of the big names of Campbeltown. The distillery still maintains much of its original design, including the mashtun, the stillroom and the dunnage warehouse dating from the 1830s. The last century saw turbulent times for the whisky distillers of Campbeltown, yet our legacy endures.
Campbeltown is a very special place in Scotland, referred to as 'the centre of the universe' by some of its current residents. With an abundance of rich farmland, local barley, peat and fresh water, it was almost inevitable it would become a vital part of the history of whisky distilling. Distilling on the Kintyre peninsula dates back to 1609 with the granting of the first licence to produce 'aqua vitae'. In the Victorian age, Campbeltown was known as the whisky capital of the world – one of the five distinctive malt producing regions of Scotland, namely Highland, Speyside, Lowland and Islay and of course, Campbeltown. Glen Scotia is a fine example of this historic region.
Address:
12 High St, Campbeltown PA28 6DS, United Kingdom
Color: amber yellow with golden reflections Bouquet: oak, notes of toasted sugar and citrus peel, hints of berries sprinkled with dark chocolate Taste: abundance of rich and toasted notes.
Products of the same designation
From same wine maker