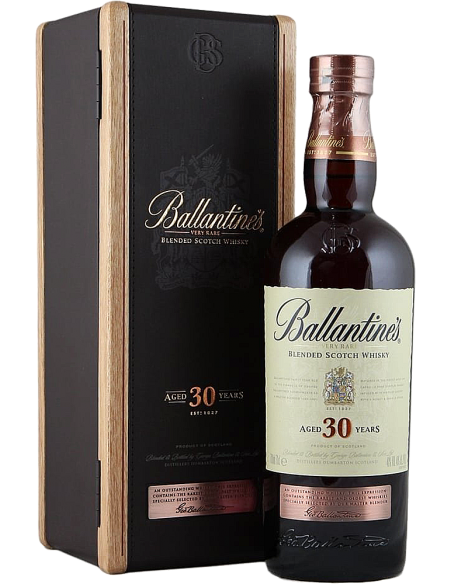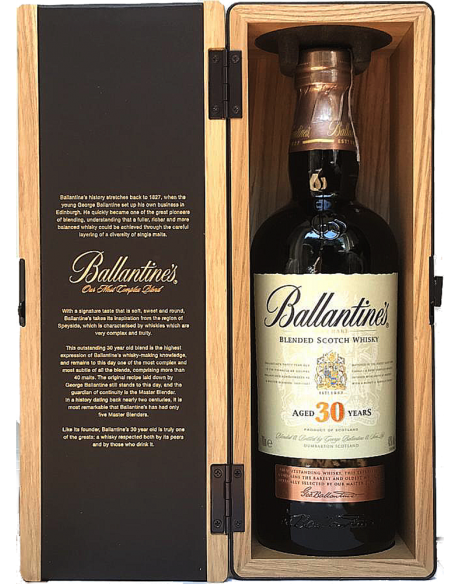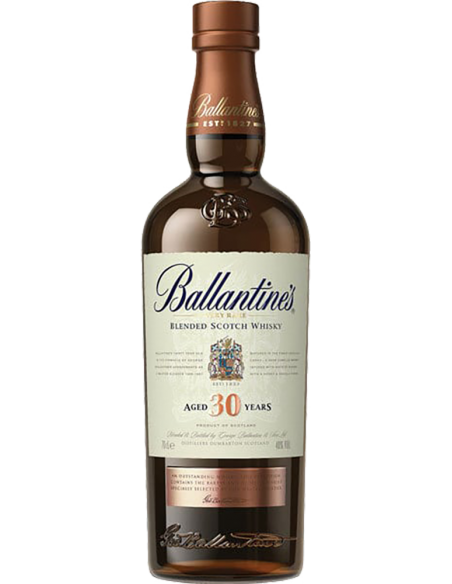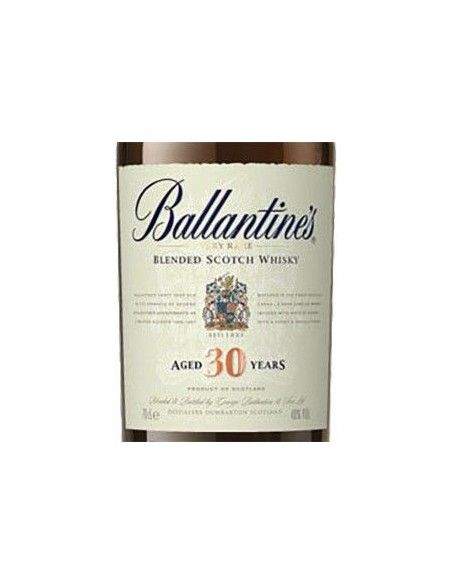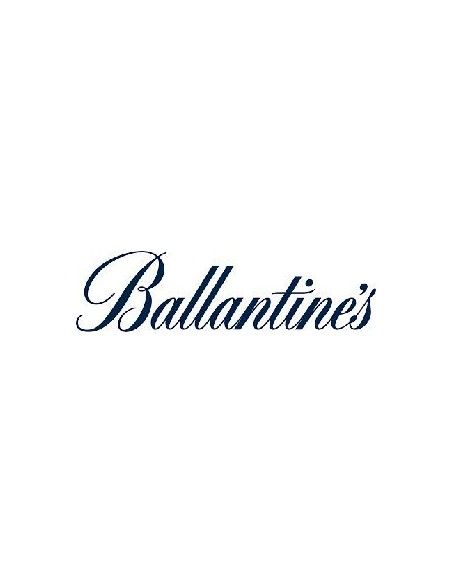 The Blended Scotch Whisky 30 Years Old by Ballantine's is the result of the union of rare whiskeys aged at least 30 years, some of which come from distilleries that no longer exist today. Deep golden yellow in color, it opens to the nose with delicate fruity aromas including pear juice and peach, accompanied by notes of vanilla, honey and slight smoky hints. In the mouth it is complex and powerful, with floral and fruity scents that accompany a pleasantly long and spicy finish. Whiskey to be reserved for important occasions due to its exclusivity.

Product Category

Whisky

Designation

Blended Whisky

Type

Scotch Whiskey - Blended

Type of Production

Distilled

Other Features

Filtered

Grape / Raw material

malt

Aging

30 years

Size

700 ml.

Country

Scotland

Region

SC - Speyside

Alcohol Content

43% vol.

Service Temperature

16° – 18° C.

Suggested Glass

Tulip glass very large

Packaging

Wood Box, Gift Box Set, Numbered production

Food Matches

After Dinner - Meditation

Tasting

Color: deep golden yellow Bouquet: delicate fruity aromas among which pear juice and peach stand out, accompanied by notes of vanilla, honey and slight smoky hints. Taste: complex and powerful, with floral and fruity scents that accompany a pleasantly lon

George Ballantine started his business at the age of only nineteen, to then pass on his experience as a mixer to his sons George II, Archibald and Daniel, as well as his nephew George III. All contributed to forging the undisputed reputation of their whiskey. In 1895, indeed, the Ballantine & Son received an award from Queen Victoria, the highest acknowledgment bearing witness to the prestige of the company. The first Blended of the Ballantine's family was the Finest, in 1910, which still stands as the oldest recipe of the current range of products. Almost 200,000 bottles of Finest are sold every day worldwide, demonstrating long-lasting quality.
The next mixer head was George Robertson, this time a stranger to the Ballantine family. Having inherited this task after the First World War and 13 years of prohibition, he found himself holding many barrels of aged whiskey. George Robertson created the first scotch aged 17 years (which still boasts the reputation of being the most renowned) and the prestigious Ballantine's 30.
Jack Goudy continued our tradition of excellence with the 12-year-old blend. He also taught the craft to two future mixing heads, guaranteeing long life to the quality of Ballantine's products. Jack explained to his apprentices the importance of finding the best scotches and making them age in the best American oak barrels. Since then, every year new American oak barrels arrive, which guarantee the high quality and the usual taste.
Robert Hicks, a perfectionist in the world of whiskey, was the first talent to blossom thanks to Goudy's teachings. Before becoming head mixer, he worked with Jack for 24 years. His sense of smell for whiskeys was known to all.
Sandy Hyslop, current head mixer, as well as the second talent formed by Goudy, loves to introduce novelties in the Ballantine's house. Extremely prolific from the professional point of view, he is responsible for the inclusion of new whiskey flavors, such as those of Ballantine's Brasil and Hard Fired. Sandy also added Ballantine's 40, a product of which he is particularly proud, as well as the maximum expression of aged whiskey, within the range. Sandy, with his approach focused on continuous and first-person observation of the product (he scents about 250 samples every day) defines the direction of Ballantine's.
Thanks to the influence of these five Ballantine's mixer heads it is today the Scotch whiskey n. 1 in Europe and n. 2 in the world. Currently, Ballantine's has the most complete range of aged and quality blended Scotch whiskeys in the world.
Products of the same designation
From same wine maker