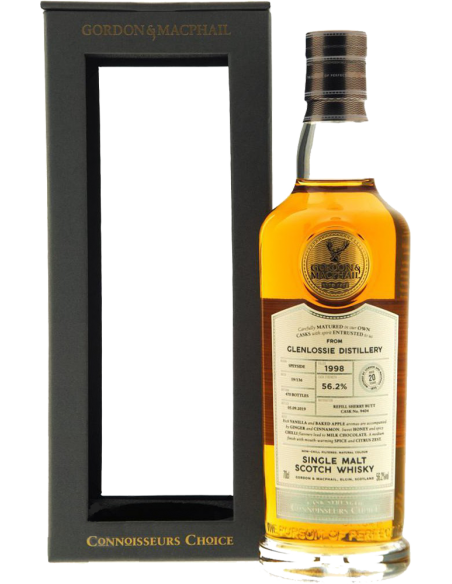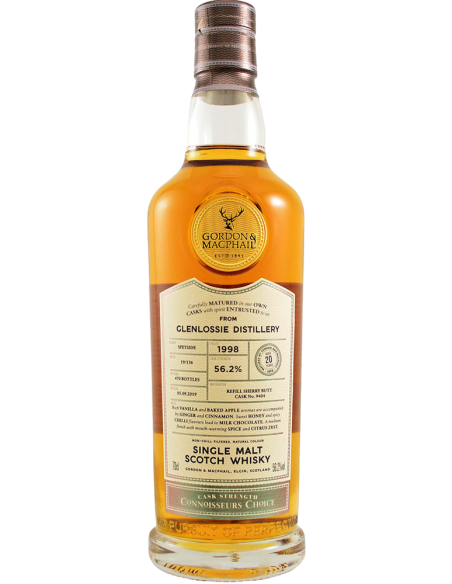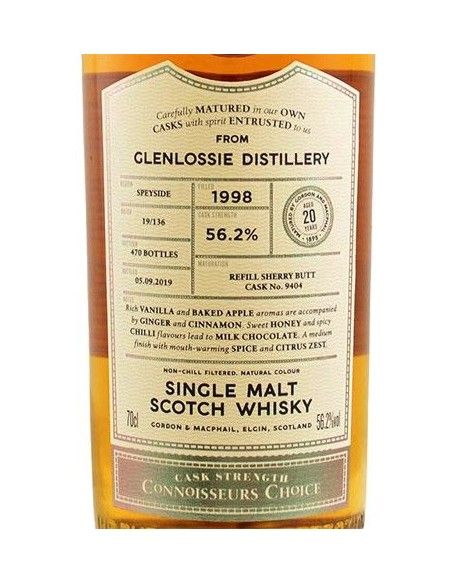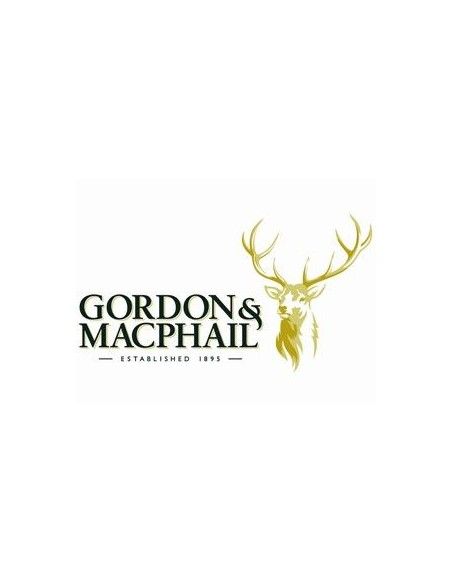 Single Malt Scotch Whisky 'Glenlossie' 1998 Connoisseurs Choice 20 Years (700 ml. box) - Gordon & Macphail
Single Malt Scotch Whiskey 'Glenlossie' Connoisseurs Choice 1998 by Gordon & Macphail was distilled in 1998 and bottled in 2014. Aged 20 YO with double passage in ex Sherry casks. The history of Glenlossie is linked to John Duff, one of the most picturesque figures of the whiskey industry of the second half of the nineteenth century. Whiskey with intense notes of vanilla and cooked apple and sweet hints of date and orange zest. A hint of marzipan, ginger and cinnamon. Sweet taste with notes of dark honey with spices and creamy caramelized orange. Sensations of malty cereal accompany hints of milk chocolate and a touch of anise. Medium to long finish with warm spicy notes and citrus zest. A Whiskey for connoisseurs. Cask strength 56,2° vol.

Product Category

Whisky

Designation

Single Malt Whisky

Type

Scotch Whiskey - Single Malt

Type of Production

Distilled

Other Features

Filtered, Cask Finish

Grape / Raw material

malt

Aging

20 years

Vintage - Cuvée

1998

Size

700 ml.

Country

Scotland

Region

SC - Speyside

Alcohol Content

56.2% vol.

Service Temperature

16° – 18° C.

Suggested Glass

Tulip glass very large

Special Features

Limited Edition

Packaging

Branded Case

Food Matches

After Dinner - Meditation

The town of Elgin, in the north of eastern Scotland, is considered the "Whiskey World Capital". It is here that in 1895 Gordon & Macphail, James Gordon and John Alexander McPhail were founded. Their intuition was to combine the typical "drugstore" with the wine and liquor store, combining two distinct commercial activities and becoming, in the case of Whiskey, pioneers of the single malt market outside the highlands. Their choices became more than just a matter of fact: selecting and buying the best whiskey novels directly from the producer, then aging them in the best barrels and finally bottling them at the right time, Gordon & Macphail dominated the single malt market in the thirty years 1955-1985, recognizing his complex and elegant style. Today, the company, capitalizing on the excellent relationships it has established with all the Scottish distilleries, finds itself with an immense and diversified stock of whiskey in its warehouses, and continues to be present on the market with prestige and authority.
Color: dark gold Bouquet: notes of stewed raisins covered with brown sugar and toasted hazelnuts. Delicate floral aromas, vanilla and dry hay Taste: full and fruity initially, followed by sensations of toasted malt.
Products of the same designation