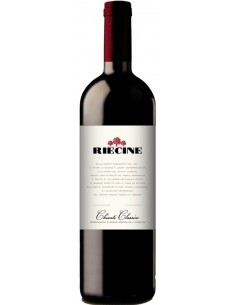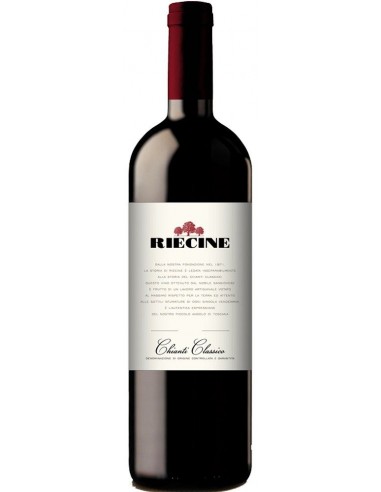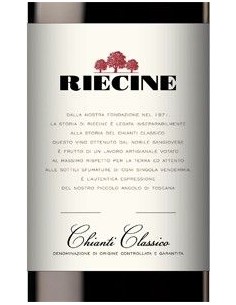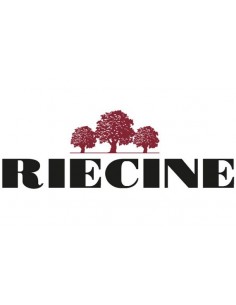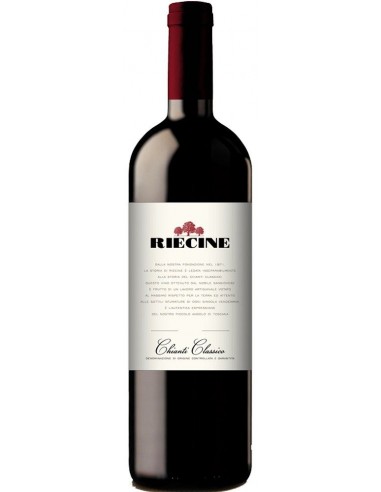 Chianti Classico DOCG 2016 - Riecine
The Chianti Classico DOCG by Riecine is a classic wine of Tuscany. Made in classic style, medium-bodied, with so much character and fruity. Aged 18 months in oak barrels, natural steel and cement Nomblot before being bottled. Perfect  throughout the meal. Try it with roast pigeon.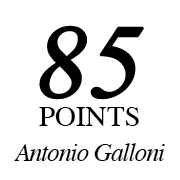 By buying this product you can collect up to 1 point. Your cart will total 1 point that can be converted into a voucher of €0.20.
€23.75
VAT included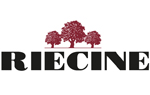 THE GRAND CRUE CLASSIC CHIANTI
The flagship of our portfolio is the Riecine Chianti Classico. The wine is 100% Sangiovese made in a classical style, medium bodied with lots of fruit character, light tannins and a spicy finish. It is authentic and true to the Gaiole terroir
The wine is aged 18 months in "NOMBLOT" cement tanks. stainless steel tanks, used barriques, older tonneaux or big wooden casks before blending and bottled.


THE COMPANY
Riecine's winemaker since 1992, Sean O'Callaghan, leads the entire winemaking process.
The grapes are destalked into shallow bins and then all softly crushed by foot before being dropped into either cement, stainless steel, oak or open topped bins.
The fermentation is carefully controlled by Sean to ensure proper temperature and perfect extraction of soft tannins, colour and flavour.
Once in the tanks we run off a "salasso" of about 10-20% of the juice. This process increases the ratio of skins to juice in the remaining must. In this way we manage to have more concentration in the finished wines.
All the wines are fermented with their own natural yeasts and therefore start off very slowly. This adds character but also has the bonus of causing a cold maceration that lasts normally 3 to 4 days.
Some of the grapes are fermented in small lots of 1,200 liters open fermentation containers. The cap is hand punched down 4 times a day. The other grapes are crushed lightly into 5,000 liter open top stainless steel fermentation vats. These are pumped over 4 times a day and then the cap punched down by hand. During the process we also do various iterations of "delestage" (rack and return) to increase oxygen uptake and to mix up the cap.
Everything is normally racked-off after about 25 days, first into tank and then into barrel. Depending on the vintage and vineyard, the wines will go into barriques, (both new and second-use), tonneaux, stainless steel or big traditional barrels.
The wines are matured separately in their vineyard lots for up to 2 years for the Riecine IGT and La Gioia and 12-18 months for the Chianti Classico.
After aging, the wines are selected by Sean for bottling. If at any point in the process the grapes or the wines do not meet our rigid quality review, they are not bottled as original Riecine wines.
The aging of each lot separately gives our winemaker the ultimate blending options at bottling time.
Riecine is the ultimate authentic expression of Sangiovese
The Sangiovese grape originated in Italy and it was claimed the the grape was first cultivated in Tuscany by the Etruscans. Today, there are currently at least fourteen different clones used by different producers. Young Sangiovese has a fresh fruity flavor of strawberry and a little spiciness, but it easily takes on oaky flavors when aged in paroles.
Though Sangiovese is adaptable to many different types of soils it seems to thrive in soils rich with limestone and in Chianti  they often produce elegant wines with forceful aromas, based on the galestro soils.
The Sangiovese grape requires l relatively long growing season which gives it the grapes time to develop richness and potential body. Our harvest is normally mid to late October.
THE WINEYARDS
Our vines are carefully tended by hand and all of our farming techniques are 100% organic with biodynamic processes being introduced.
Sprays are kept to an absolute minimum–no herbicides or insecticides are used. All the vineyards are left with grass growing in the rows to reduce erosion and bring the soil and ecosystem back as close to the natural state as possible.
Grape canopies are defoliated in late August and grape bunches are thinned out towards the middle of September to make the rose and to allow an increase extract and maturity of the remaining grapes. During harvest, the culmination of the entire year's work, grape selection is very strict and occurs at two points. Closely monitored pickers select only the best, ripest and cleanest bunches from the vines; everything else remains in the fields to return to nature. Before de-stalking, the grapes are checked for quality once again by Sean himself, with only the very best grapes making their way into Riecine's wines.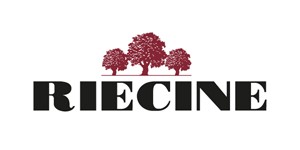 Data sheet
Country

Italy

Region

Tuscany

Vintage - Cuvée

2016

Designation

Chianti Classico DOCG

Grape / Raw material

sangiovese

Alcohol Content

13% vol.

Philosophy

Biodynamic

Size

750 ml.

Tasting

Fruity and fine red wine, with subtle notes of rose and eucalyptus. Elegant with a medium bodied structure, finishing on velvety and rounded tannins.

Food matches

All Meal, Poultry

Service temperature

16° – 18° C.

Suggested glass

Tulip glass very large

Product Category

Red Wine