List of products by brand Hibiscus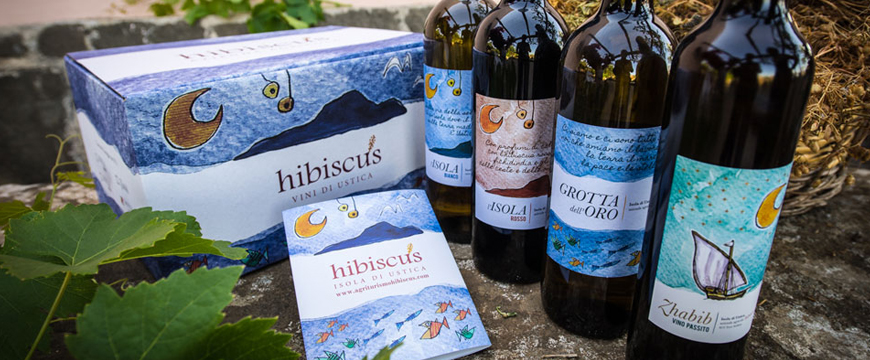 The Hibiscus farm is the only wine producer in the Usticense area. Of volcanic origin, the island of Ustica is located north of the Palermo coasts and since 1982 has been home to one of the first Marine Reserves in Italy.
Founded by Nicola Longo in the 1980s, Hibiscus is now run by Margherita Longo and her partner Vito Barbera and covers about 10 hectares, in various districts north of the island, about 200 meters from the sea. The company, starting from autochthonous vineyards such as inzolia, catarratto, grillo and nero d'avola, produces wines which are fruit of the vocation of the island environment, strongly influenced by the proximity to the sea and by a territory of volcanic origin beaten by sun and wind. The main product of Hibiscus is Zhabib, a raisin of zibibbo, born from the will of Margherita to question herself with a different sweet wine from the universally known one of Pantelleria; wine that is diversified due to the farming system and a good acidity given by a lower residual sugar than the standard production, Zhabib evokes in a sip all the heterogeneity and beauty of the island territory of Ustica. The company, using certified organic methods, is also dedicated to the cultivation of Ustica lentils, a Slow Food presidium for almost 15 years and in Trapani, on the hills between Erice and Valderice, where it has a small olive grove, it produces an oil with very intense aromas. typical of the varieties of olives used, which has the DOP designation Trapanesi Valleys.
Margherita Longo, guided like many winemakers of our islands, by a marked visionary nature, commits herself with all her productions, to revive the interest for the usticense territory and its raw materials; the company then, focusing on the continuity of quality rather than quantity, demonstrates rigor, respect for the winemaking tradition and gratitude towards the island environment, which is so capable of offering.
Terre Siciliane Bianco IGT 'L'Isola' by Hibiscus is made from catarratto and inzolia grapes that grow on the island of Ustica, from volcanic soils and vineyards that are practically on sea level. A summery and cheerful wine, that tastes of the south, of the sea, of heat, of sun, of an island, perfect for enjoying the holiday or savoring it at home.
The Terre Siciliane Zibibbo IGT 'Grotta dell'Oro' by Hibiscus is made on the island of Ustica, from volcanic soils, from vineyards that are practically on sea level. A pure Zibibbo harvested by hand with a bouquet of orange and rose notes, with an aromatic scent that intertwines with citrus fruits and Mediterranean herbs. A fresh white, sapid, soft and balanced.