List of products by brand Black Bull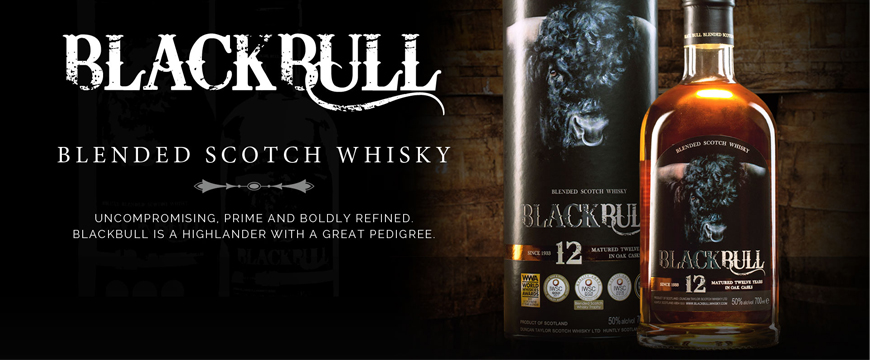 George Willsher was a man who didn't conform to the norm. He did things differently. He took risks and wasn't afraid to go against those who told him things wouldn't work. When he conjured the idea for Black Bull in his blending room at his grocery and spirits shop in Dundee in 1864, he came up with a concept. That concept was for a high strength, high malt content blend that was bold and different. The formula that he created was for 50 percent (%) of the blend to be made up of single malt whisky, for 50 percent (%) of the blend to be made up of single grain whisky and for the bottling strength to be 100 (US) proof (50% abv). Whilst all the others were trying to conform to a certain style, George Willsher did things his own way, and today we stick by that philosophy. We are proud to say we are still independently owned and run which gives us the freedom to keep a fresh approach and to offer something different.
Black Bull is a trademark of Duncan Taylor Scotch Whiskey, a privately owned independent bottler and blender of Scotch whisky in northeast Scotland.
Duncan Taylor initially operated in Glasgow as a whisky merchant and broker of Scotch sales between distilleries and independent bottlers and blenders. The company has now moved its headquarters and bottling facilities to Huntly in Aberdeenshire, not far from the Speyside region, and now focuses on producing and marketing its own brands.
The 'Black Bull' 12 Y.O. by Duncan Taylor is a classic, produced for the first time in the '30s. Rough with a smooth finish like silk. A union of robust Highlands and Speyside whiskeys, matured in European oak casks ex Sherry and American ex Bourbon, with lowland grains, matured in American Bourbon former oak barrels. 50% malt and 50% wheat for a powerful 50% alcohol.