List of products by brand Campo alle Comete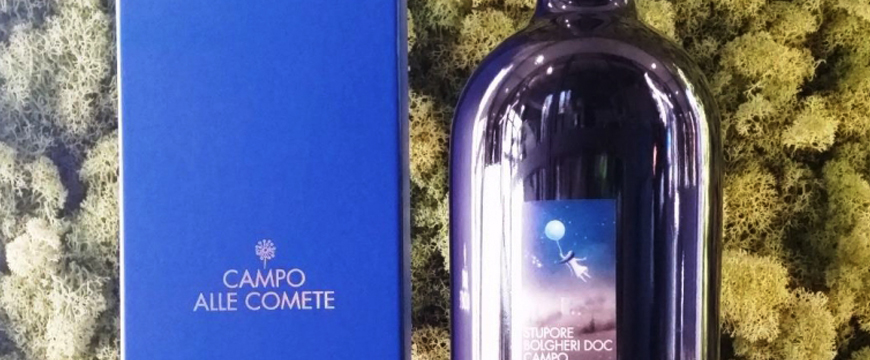 A world suspended between the sky and the earth, in which to let oneself be guided by bright stars, to walk in a marvelous reality, as if made of the matter of dreams. Ancient perfumes, childish images and an imaginative reality: the name already evokes everything, recalling a dimension in which flavors and aromas are combined with the emotion of the vineyards. It is the company "Campo alle Comete", which in the heart of the Castagneto Carducci area, with its sixteen hectares of vineyards, is one of the most interesting and fascinating wineries in the whole area of ​​Bolgheri. It all started on the basis of a well-defined project, in which tradition and experience were combined with poetry and imagination, so as to come astonish with wines like others that do not meet. Tuscan stronghold of the "Feudi di San Gregorio" wine group, the "Campo alle Comete" winery is the result of a meeting between a consolidated reality in the sector - precisely that of "Feudi di San Gregorio" - and one of the most prestigious areas of the Peninsula: that of Bolgheri. In the vineyard, the rows stretch out in the middle of the Livorno Maremma, and the plants are caressed by the enveloping breezes that blow from the Tyrrhenian Sea to the hinterland. Organized as to form a sort of amphitheater, the plots enjoy a temperate climate and particularly favorable to viticulture, and the vines, with an average density of 7 thousand plants per hectare, grow on well-balanced and rich soils, reared in full respect of the environment, nature and ecosystem. Grapes of merlot, cabernet franc, cabernet sauvignon and petit verdot, but also of syrah and vermentino, are processed in the cellar interpreting and enhancing what the season and the territory have been able to express in the fruit. Finally, aging in barrique and oak tonneau completes the journey that leads to "Stupor" in the first place, the label that perhaps more than any other tells us all the unparalleled magic of "Campo alle Comete".
In Bolgheri Rosso DOC 'Stupore' by Campo alla Comete meet 4 different varieties of international vines, an absolutely excellent blend, symbol of the highest quality that can be found in the lands of Castagneto Carducci. Matured for 10 months between barriques and French oak tonneaux, an extremely pleasant Rosso comes out. Among the top of the denomination.